If you thought that swimming was a solitary pastime, then think again. The swimming community is a very positive and supportive place. Whenever I share my swims on social media I get a lovely response and it's always great to see what everyone else has been up to. Here are the swims we've got the most out of this year:
Norma's sunrise swim in the Outer Hebrides
My favourite swim of 2019 was a late summer sunrise swim in the Outer Hebrides with friends I hadn't caught up with for ages. Running a new outdoor swimming business is amazing and I love my job, but I kept missing swim meet ups with my friends as I was too busy. It wasn't a long swim but a perfect swim. Sea temperature, light winds, beautiful morning and great company. Braighe Beach, Isle of Lewis.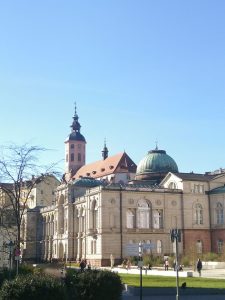 Natascha strips off in Baden-Baden
Back in February, I decided to escape the winter cold in the thermal baths of the German spa town of Baden-Baden. I was particularly excited to the try the historic Roman-Irish Friedrichsbad with a special circuit of 17 beautifully-tiled hot room, bathing, massage and showering stations. As I was new to the world of textile-free bathing, I decided to go first thing in the morning in the hope of beating the naked crowds! This strategy paid off and I had the spectacular circular dome pool all to myself. A truly memorable swim well worth ditching the costume for.
Natascha is @hedgehognights on Instagram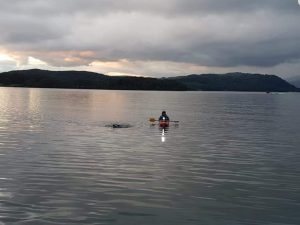 Liz's two-way Windermere swim
When I finished one-way Windermere in 2017, I immediately said I reckon I could do that again, so in September this year I did. My first swim in Windermere was the 5k Great North Swim in 2015 and I thought that was enough. Four years on I've swum 21 miles up and down and it was amazing. It was also the toughest thing I've ever done but I loved, most, of it. I never thought I could do something like that; it amazes me what you can train your body to do!
Check out Liz's swimming site Lakes Lidos Lanes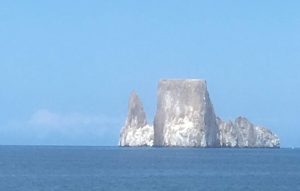 Phil swam at Kicker Rock in the Galapagos
I was lucky enough to swim 17 times in the Galapagos. Kicker Rock was the first and most spectacular. We swam right next to the rocks just as the sun was rising. We went round most of the rocks, which were miles out from the islands, but finished by swimming through a deep gap in the rock, with the current pushing us through. Under the surface were many spectacular fish and several white-tipped sharks. We were swimming from a converted fishing boat and delicious hot rolls and coffee greeted us back at the vessel.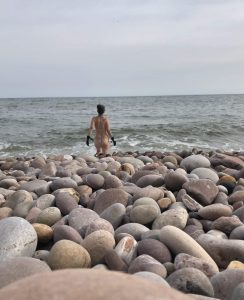 Joanna's post-SATs skinny dip in the sea
SATs had finished: the pressure was finally off. I wanted to wash it away. It was May and I had been wanting to do it for ages. I couldn't relinquish the boots and gloves. There was one poor man on the beach… I nearly didn't do it. Then I thought who the f**k cares… I just wanted to feel the ocean and sky on my skin. It was so liberating. I was free.
Emma's Scilly Isles swim
St Martin's to Tresco Island with SwimQuest Holidays  and Adventure Scilly was my swim of the year. Water temperature was 15°C and we covered two kilometres in an hour, followed by supper and a roaring log fire.
Emma's on Twitter at @EmmaDixon_EU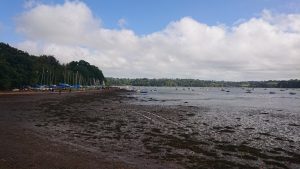 Sam swam the Dart 10k for the first time
I swam the Outdoor Swimming Society's Dart 10K to raise money for Level Water. It was my second ever 10K, and the tenth anniversary of the event, so it seemed like the best year to enter. Perfect Saturday morning, setting off at 7am, zooming along the river in two hours and 29 minutes! Luckily I didn't spot the curious seal.
Follow Sam on Twitter at @samt77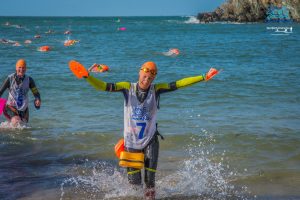 Sabrina's Holy Island swimrun in September
I started training for swimrun one year ago. That's swimming and running without transition. The day was windy and choppy in the water, but I was calm and prepared. I did over 18 kilometres in two hours and 45 minutes! It was my first sea swimrun and I LOVED it. Holy Island is stunning and I fell in love with this beautiful endurance sport.
Follow Sabrina on Twitter at @bepositive79
Karen's early morning dip in Lake Ontario
It was early morning on Lake Ontario. Amazing! We were camping next to the lake and I was the only one in. Pretty cold water, but crystal clear. I love the few lakes I've swam in in Canada.
Karen is @Wigan112 on Twitter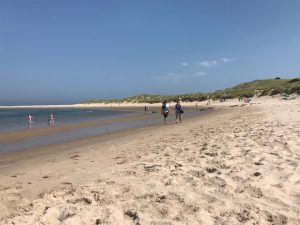 Val cooled off in Budle Bay
It was a scorching hot day in July, not a regular occurrence in north Northumberland. Definitely a day to plunge into the freezing North Sea. I drove the three miles to the coast, found the perfect spot on the quiet beach, stripped off to my swimsuit and waded into the water. Icy! It felt horrific. How on earth could I plunge into this freezing water? Inch by inch I edged further into the water knowing that it would be worth the agony now for the pleasure still to come. Almost up to my chest I knew the moment had come to plunge in. Splash. The first 30 seconds were sheer pain and then…the water transformed into an enormous warm, comforting cloak enveloping me as I swam out into infinity. Such pleasure.
Val is @Goldcrest25 on Twitter
Charlotte's swim in the shadow of the Acropolis
My best swim was in Athens at the end of September. It was hotter than I'd expected – still nearly 30 degrees – and after a few hours exploring the fascinating but not very shady ancient temples, I was ready to head back to the hotel for a swim. The pool was an oasis of peace in the middle of the busy city centre, with incredible views over the Acropolis and the mountains beyond; it was like swimming through ancient history. A perfect way to relax, swimming until the light and heat faded and I felt refreshed enough to venture back out and explore the city again. I think the heat would've been difficult to endure without the promise of a cool swim afterwards!
Find Charlotte on Instagram as @archivistchar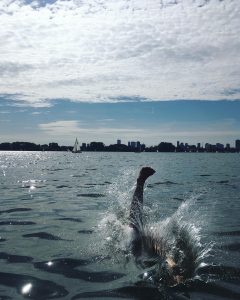 Christine has started swimming again after 34 years out of the water
This year I reintegrated swimming back into my life. I grew up near the beautiful River Steyr. It's one of the cleanest rivers of Austria. Swimming in this river gave me power during my childhood. On Saturday the 13th of July 1985 I lost access to my natural power source due to a traumatic experience in the water. I was 13-years-old and now I am 47 years of age. This year I overcame my fears and started swimming again in a lake in Rotterdam, in The Netherlands where I currently live.
Christine shares her swimming happiness on Instagram with the hashtag #swimstinieswim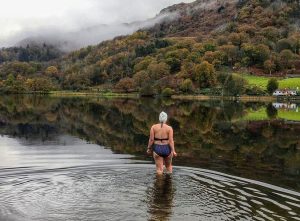 My autumnal dip in Rydal Water
Swimming in the Lake District in November when all of the colours of autumn were at their best was a real privilege. After a glorious dip in Grasmere, I threw on my robe and marched on to Rydal Water with a dear friend as support, amused by the looks I got from hikers who passed me by. Stripping off again, I walked into the mirror-like water and was totally overtaken by the tranquility of the location and the beauty of the misty hills shrouded in reds, browns, greens and yellows.
You can find me on Instagram as @barefootemswims